A Personal Journey of Discovering the Ancient Goddess, Hera
Jun 26, 22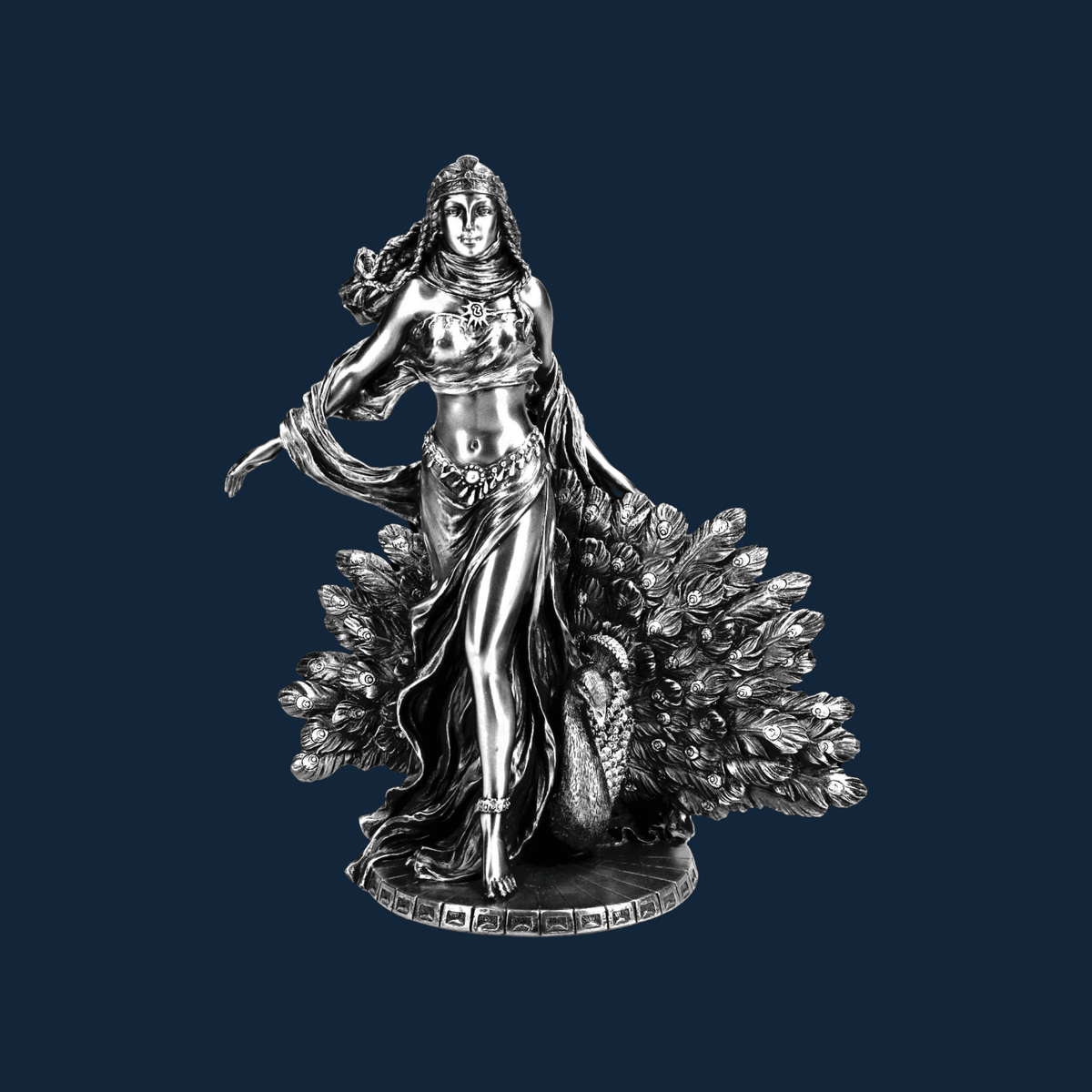 A Personal Journey of Discovering the Ancient Goddess, Hera
In Greek mythology, Hera was the wife of Zeus. Together, they were known as the royal couple and often referred to as the king and queen of gods. In every version of her story, Hera was a jealous wife who attempted to sabotage her husband's many love affairs with other women.
Her jealous nature also extended towards Heracles ( Hercules ), who was their son by birth. He had no choice but to exile her from Olympus because she constantly tormented him with her distrust and constant surveillance.
Even so, Zeus continued to love his wife so much that he allowed her to remain on earth as queen of all women, where she also had dominion over marriage and childbirth. Her story is one that involves matters of trust, faithfulness, betrayal, and revenge — sentiments that are still present in modern marriages today.
But what does this tell us about Hera? And how can we incorporate the principles of this ancient goddess into our modern lives? Read on to find out...
What Hera Means to Women Today
First and foremost, Hera is the goddess of emotional strength. She is the epitome of feminine power and the ideal woman in society. In this sense, Hera represents the ideal wife and mother, but she also stands for the ideal professional woman as well.
She is a symbol of female leadership, strength, and endurance. Her story is one of triumph over adversity and a reminder that no matter how long it takes, the victory is worth it.
She is a symbol of persistence and an inspiration for women to never give up on their dreams. Her story is one of unconditional love, but it is also one of betrayal and vengeance.
She is a reminder that we must never let our emotions consume us and prevent us from living our lives in a state of constant regret and resentment. She is also a reminder that we must make our own decisions and not let others influence us into making choices that do not reflect who we truly are.
Finding Freedom Through Jealousy
Her jealousy is what drove many of the decisions that transpired in her life and in the lives of those around her. But it was also her jealousy that helped her realize the true extent of her power.
Hera was constantly jealous of Zeus's other relationships, especially his affair with Semele, a human woman who he impregnated and then killed. After this, Hera was consumed by jealousy and revenge.
She wanted to end this affair, not only for her sake but also for the sake of the future queen of gods, whose life would be tainted by this affair.
Unlike many women who let jealousy consume them, Hera was able to overcome it and find freedom in the decision to end her jealousy by devising a plan that would end this affair and show Zeus that she was not someone to be trifled with.
Once she was able to let go of resentment and find this freedom, she was able to focus on regaining her dignity and power through her revenge.
Discovering Independence Through Confidence
Hera was constantly being undermined by Zeus and his affairs, but she let it go on for far too long. Her confidence got her to a certain point, but she was not able to take the next steps in her life until she gained the confidence that she needed to move on.
Because of her lack of confidence, she allowed this to go on for far too long and it negatively affected her entire life. She was unable to claim her rightful place as queen of gods and she could not move on from this affair because she lacked the confidence to let go of it.
When she finally gained the confidence to take control of her life again, she was able to use this affair for her own benefit. She used this affair to regain control over her life and find the confidence that she needed.
Commitment Through Co-dependent Relationships
Hera was constantly in a state of dependence throughout her relationship with Zeus and this was evident in the way she constantly tried to sabotage his affairs. While she was trying to sabotage these affairs and regain control over her life again, she got into a co-dependent relationship with Heracles.
Her relationship with Heracles was one of dependence because he was constantly trying to get her to stop trying to sabotage Zeus's affairs. He was constantly trying to get her to stop and put an end to her revenge.
Her relationship with Heracles, who was trying to "fix" everything for her, was not a healthy one. She needed to be constantly on the offensive to regain her dignity, but he wanted her to be on the defensive.
Conclusion
Forever remembered as the jealous wife of Zeus, Hera is a reminder that some of our worst traits can also be our best ones, if we learn how to harness them properly.
Hera, with her propensity for jealousy, was able to find freedom, confidence, and commit to her relationship with Zeus by using it to her advantage. By finding the positives in her jealous nature, she was able to turn her relationship around and use it as a source of strength in her life.